Are you cleaning out your garage? Remodeling a small bathroom? Or simply getting rid of junk? If you are doing a smaller project and not sure what to do with the debris, 10 yard dumpster rentals are perfect for you. Not only will renting a 10 yard dumpster save you a lot of time, but it will also handle far more debris than regular garbage collection.  Additionally, all of your debris can go in one convenient place. Which will keep it out of your way. If you need a 10 yard dumpster, give us a call. We have been serving the small rental needs of businesses, homeowners, and contractors in the Tampa Bay area since 1972. Since that time, we have worked with thousands of clients earning the reputation as the best in the industry. In a word, call today or click here to request a quote.
How Big is a 10 Yard Dumpster?
A 10 yard dumpster measures 12' long x 8' wide x 3.5' high and can hold the equivalent of 50 or 60 garbage bags. In other words, they can hold 10 cubic yards of waste or the equivalent of 3 pickup truck loads of waste. Consequently, 10 yard dumpsters are ideal for smaller projects.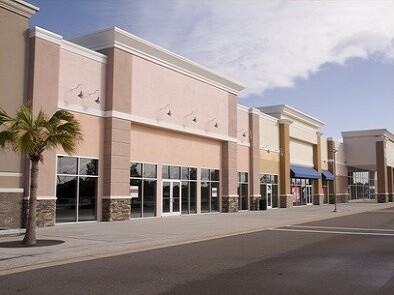 What Types of Projects is a 10 Yard Dumpster Right For?
As stated earlier, 10 yard dumpster rentals are great for small-sized projects, such as:
Keep in mind that every project is different. As a result, a larger container may be necessary in some cases. However, when you contact us, we can help determine if a larger bin is needed.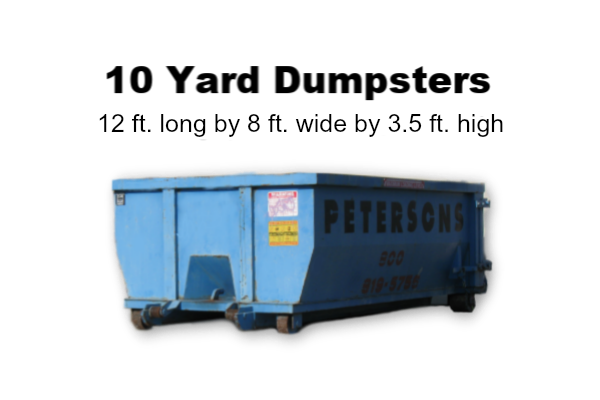 What Can and Can't Be Thrown in 10 Yard Dumpster Rentals?
Typical junk and debris from landscaping, home improvement and construction projects are typically permitted. Generally speaking, carpeting, flooring, shingles, drywall, tree branches, lawn debris, concrete, furniture, and more can be thrown in the dumpster. However, any hazardous material, such as batteries, oil containers, paint and auto parts are not allowed a 10 yard dumpster.  For a complete list of items that are not allowed in 10 yard dumpster rentals click here >
Contact Us for Quick and Reliable 10 Yard Dumpster Rentals
Licensed and insured, Peterson's Roll Off Dumpsters has been serving Tampa Bay and the surrounding areas since 1972. In fact, renting a 10 yard dumpster from us is easy! First, when you contact us, our helpful, friendly, and knowledgeable staff will answer all your questions and walk you through the dumpster rental process. Second, our low, flat rates makes your project affordable. Third, we will schedule a convenient delivery and pick up time. In short, if you need 10 yard dumpster rentals, call today or click here to request a quote.

I can't thank you enough for your prompt service and awesome customer service.  You guys are really top notch.  It's a pleasure working with your company!!
Reliable Dumpster Service
Same Day Service
In most cases we can provide same day service.  Contact our office for details.
Family Owned & Operated
Established in 1972, we are three generations strong. In fact, we strive to meet your needs with competitive, reliable services.
Emergency Service
Since not all dumpster rental needs are planned, we offer emergency service.
Wide Selection of Sizes
Seeing that projects can vary, we offer a variety of dumpster sizes to fit your needs. 
Flat Rates
We offer simple Flat Rate prices.  In other words, you do not need to worry about rental fees, disposal fees & more.
Licensed & Insured
Our business is fully insured and certified. Additionally, all our technicians are highly trained.
On Time Delivery & Pick Up
Our courteous drivers provide reliable on time drop off & pick up services
Environmentally Friendly
Our local public dumping facility is safe, clean, and environmentally friendly.
Superior Customer Service
Finally, we offer reliable service, and prompt response time.  
In Short, The Types of Dumpster Rentals We Offer Include:
Peterson's Roll-Off Dumpsters Proudly Services the Following Areas
Pasco County
Airpeka, Bayonet Point, Dade City, Elfers, Holiday, Hudson, Land O Lakes, New Port Richey, Odessa, Port Richey, Saint Leo, San Antonio, Seven Springs, Trinity, Wesley Chapel, Zephyrhills
Pinellas County
Clearwater, Dunedin, Oldsmar, Palm Harbor, Safety Harbor, Tarpon Springs
Hillsborough County
Brandon, Carrollwood, Cheval, Citrus Park, Egypt Lake -Leto, Keystone, Lake Magdalene, Lutz, Northdale, Sun City, Tampa, Town n Country, Westchase
Hernando County
Brooksville, Hernando Beach, Ridge Manor, Spring Hill, Timber Pines, Weeki Wachee