Dumpster Rentals for Demolition Debris
Hassle Free Dumpster Rentals! Flat Rates, with no Surprises!
Peterson's Roll Off Dumpster is here to help you make your project easier!  With our demolition dumpster rentals, you can clear out debris from your project quickly and easily.  Available in a variety of sizes, including 10, 20, and 30 yards, our dumpsters are suitable for all sized projects.  We have provided efficient, affordable demolition dumpster rentals in the Tampa Bay area for over 45 years. Not only will our demolition dumpsters keep your project on track, but they are also a cost-effective solution for waste disposal. Call today or click here to request a quote.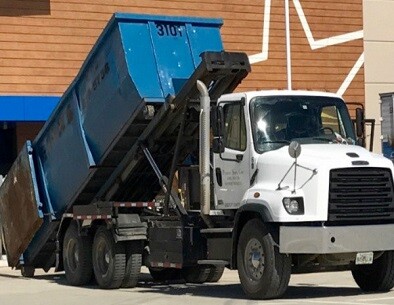 We Can Handle Any Type of Demolition Debris
Construction Debris
A construction site is typically full of nails, heavy objects, and debris. Not only will our demolition dumpster rentals allow you to remove large quantities of debris at once, but they will also help reduce the risk of injury.
Concrete and Other Heavy Debris
Undoubtedly, disposing of large amounts of concrete or heavy debris is challenging. Our demolition dumpster rentals can handle any type of debris, even the heaviest materials.
Landscape and Yard Waste
If you are doing a major overhaul, demotion dumpster rentals are perfect. In fact, they hold just about anything, including stumps, branches, sod, dirt, and more.
Disaster Clean Up
We hope you never experience a fire, flood, hurricane, or tornado and incur damage. However, as we have seen, disasters leave long-lasting effects. You may be faced with removing trees, cabinetry, glass and more. Because our demolition dumpsters hold just about anything from your home or business, they are perfect for cleaning up after a disaster.
The Most Popular Demolition Dumpster Rentals
30 Yard Demolition Dumpster Rentals
Our 30 yard dumpster is great for large-scale demolitions. It measures 22' long x 8' wide x 6' high. In other words, it holds 30 cubic yards of waste, or the equivalent of 9 pick up truck loads of debris.
20 Yard Demolition Dumpster Rentals
The 20 yard dumpster measures 22' long x 8' wide x 4.5' high. It holds 20 cubic yards of waste, or the equivalent of 6 pickup truck loads. This size is perfect for medium sized demolition projects.
If your demolition project is concrete based, it might seem logical that you would need a 30 yard dumpster. However, concrete dumpsters are usually 20 cubic yards or smaller. Concrete is extremely heavy with 1 cubic yard weighing about 4,000 lbs. or 2 tons! This extreme weight can pose a problem and risk for our drivers when hauling concrete. For this reason, there are regulations mandated by local transportation departments that are in place to make sure weight limits are followed.
What to Expect with Your Dumpster Rental from Peterson's Roll Off Dumpsters
Toughly Built Containers
Not only are our bins convenient, but they are also able to handle any type of debris.
Affordable Flat Rates
We charge a flat rate. Which means you pay no delivery, rental, or dumping fees. Additionally, our flat rate includes disposal fees, with no surprises.
Efficient, Dependable Service
In the event you need a dumpster today, give us a call. We are available for same day and emergency services.
Contact Us for Quick and Reliable Demolition Dumpster Rentals
Licensed and insured, Peterson's Roll Off Dumpsters has been serving Pasco, Pinellas, Hillsborough, and Hernando Counties for over four decades and understands what it takes to get the job done right the first time. With outstanding customer service and the best prices in the area, we have become the go to dumpster rental company for demolition debris. You can count on us to deliver clean, quality dumpsters to meet your specific needs. If you are looking to keep your demolition site organized and safe, contact us today!

Ordered 2 dumpsters now for my home remodel. Excellent overall service from start to finish. Prices were lower than the competitors i called. Will use them anytime i need a dumpster in the future 👍
Reliable Dumpster Service
Same Day Service
In most cases we can provide same day service.  Contact our office for details.
Family Owned & Operated
Three generations strong, we striving to meet your needs with competitive, reliable services.
Emergency Service
Since not all dumpster rental needs are planned. Therefore, we offer emergency service.
Wide Selection of Sizes
Seeing that projects can vary, we offer a variety of dumpster sizes to fit your needs. 
Flat Rates
We offer simple Flat Rate prices.  Which means there is no need to worry about rental fees, disposal fees & more.
Licensed & Insured
Our business is fully insured and certified.  Additionally, all our technicians are highly trained.
On Time Delivery & Pick Up
Our courteous drivers provide reliable on time drop off & pick up services
Environmentally Friendly
Our local public dumping facility is safe, clean, and environmentally friendly.
Superior Customer Service
Finally, we offer reliable service, and prompt response times.  
The Types of Dumpster Rentals We Offer Include:
Peterson's Roll-Off Dumpsters Proudly Services the Following Areas
Pasco County
Airpeka, Bayonet Point, Dade City, Elfers, Holiday,Hudson, Land O Lakes, New Port Richey, Odessa, Port Richey, Saint Leo, San Antonio, Seven Springs, Trinity, Wesley Chapel, Zephyrhills
Pinellas County
Clearwater, Dunedin, Oldsmar,Palm Harbor, Safety Harbor, Tarpon Springs
Hillsborough County
Brandon, Carrollwood, Cheval, Citrus Park, Egypt Lake -Leto, Keystone, Lake Magdalene, Lutz, Northdale, Sun City, Tampa, Town n Country, Westchase
Hernando County
Brooksville, Hernando Beach, Ridge Manor, Spring Hill, Timber Pines, Weeki Wachee