Dumpster Rentals Hudson, Florida
Dumpster Rentals are an Affordable & Easy Way to Collect & Dispose of Trash & Debris
Whether you are a contractor, homeowner, property manager or business owner, if you need a dumpster, contact Peterson's Roll Off Dumpsters.  Since 1972 we have provided on time, hassle free and affordable dumpster rentals in Hudson, Florida and throughout the Greater Tampa area. From major building renovations and garage clean outs to remodeling debris and small office clean outs, we have the right size dumpster rentals for your project. With over three decades of experience, we understand how to match the correct size dumpster to your specific project needs, allowing you to effectively remove debris or trash from your building, home or work site. Family owned and operated, we strive to exceed our client's expectations by providing fast, reliable and dependable service. Call today or click here to request a quote.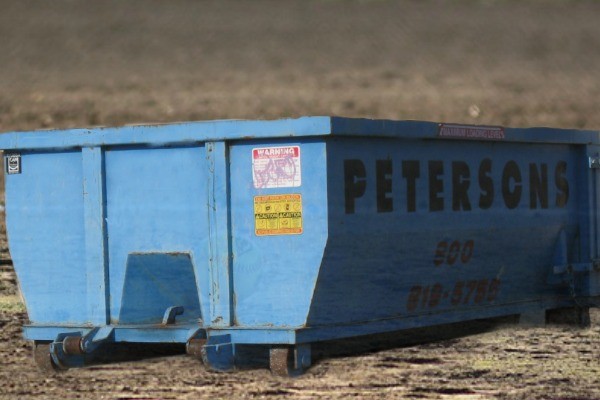 Dumpster Rentals for All Types of Needs in Hudson
Since dumpster rentals in Tampa vary according the size and type of project, Peterson's Roll Off Dumpsters provides a variety of sizes to meet any need.
Our dumpsters are available in three sizes for your convenience. Our waste container sizes are as follows:
10-yard dumpsters – A 10-yard dumpster measures 12' long x 8' wide x 4' high making them the perfect selection for small remodeling projects or medium sized clean ups.
20-yard dumpsters – A 20-yard dumpster measures 22'long x 8' wide x 4.5' high which makes this size perfect for large home clean-up projects and medium sized renovation projects.
30-yard dumpsters – A 30-yard dumpster measures 22' long x 8' wide x 6' high and is the perfect size for the largest of home clean out projects and larger home remodeling and renovation projects.
We specialize in roll off dumpster rentals for anyone who has a need to remove trash and debris in Hudson
Commercial – From major building renovations to small office clean outs, Peterson's Roll Off Dumpsters has the right size commercial dumpster for your project.
Concrete – For removal of concrete on construction remodels or demolitions, or for the homeowner tackling a home makeover, Peterson's Roll-Off Dumpsters has you covered.
Construction – When it comes to construction dumpster rentals, Peterson's Roll Off Dumpsters is the best in the industry. Our dumpsters are equipped to hold almost anything from a construction site including: concrete, asphalt, drywall, plaster, glass, roofing materials and more.
Contact Us for Quick and Reliable Dumpster Rentals in Hudson
Licensed and insured, Peterson's Roll Off Dumpsters has been serving Tampa and most of the surrounding towns and communities of Pasco, Hernando, Hillsborough and Pinellas counties. We know what it takes to get the job done right the first time. We deliver clean, quality dumpsters to fill your specific needs. We pride ourselves on our excellent customer service, prompt pickup and delivery and affordable prices. Choose us for your next dumpster rental and keep your project organized and safe with our affordable, dependable dumpsters. Call today or click here to request a quote.
Reliable Dumpster Service
Same Day Service
In most cases we can provide same day service.  Contact our office for details.
Family Owned & Operated
Three generations strong, we striving to meet your needs with competitive, reliable services.
Emergency Service
Since not all dumpster rental needs are planned, we offer emergency service.
Wide Selection of Sizes
We offer a variety of dumpster sizes to fit your needs. Reserve your dumpster today.
Flat Rates
We offer simple Flat Rate prices.  No need to worry about rental fees, disposal fees & more.
Licensed & Insured
Our business is fully insured and certified, and all our technicians are highly trained.
On Time Delivery & Pick Up
Our courteous drivers provide reliable on time drop off & pick up services
Environmentally Friendly
Our local public dumping facility is safe, clean, and environmentally friendly.
Superior Customer Service
We offer reliable service, and prompt response time.  Request a quote from our waste management company today