Roll Off Dumpster Rentals Dade City
Same Day, Flat Rate Roll Off Dumpster Rentals in Dade City
When you need roll off dumpster rentals in Dade City, Peterson's Roll Off Dumpsters is here for you.  Locally owned and operated, we have been providing homeowners, contractors, business owners and property managers roll off dumpster rentals for more than 45 years. From household clutter to major demolition debris, we have the right size dumpster to fit any need. Regardless of what kind of waste you're looking to get rid of, having a dumpster on your property or at your construction site will make the task easier. From concrete and office furniture to asphalt and carpeting, we specialize in providing roll off dumpster rentals to residential and commercial customers.   Call today or click here to request a quote.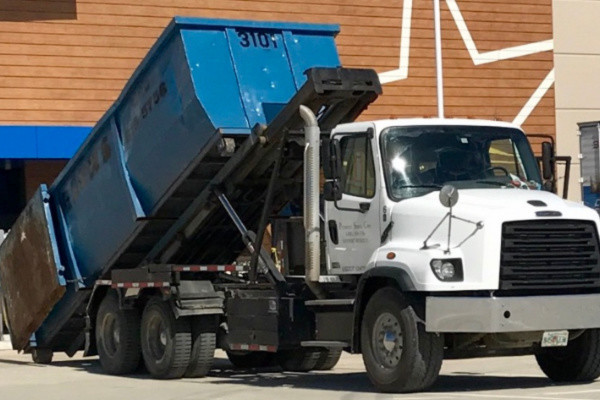 No Rental Fees, No Dumping Fees
Peterson's Roll Off Dumpsters does not charge rental fees or dumping fees.  We offer simple flat rate pricing with no surprises.  The flat rate includes drop off, pick up and dumping / disposal fees.
Roll Off Dumpster Rentals for All Types of Needs in Dade City
Since dumpster rental needs in Hudson come in a variety of types and sizes, Peterson's Roll Off Dumpsters offers dumpster rentals in three sizes for your convenience. Our container sizes are as follows: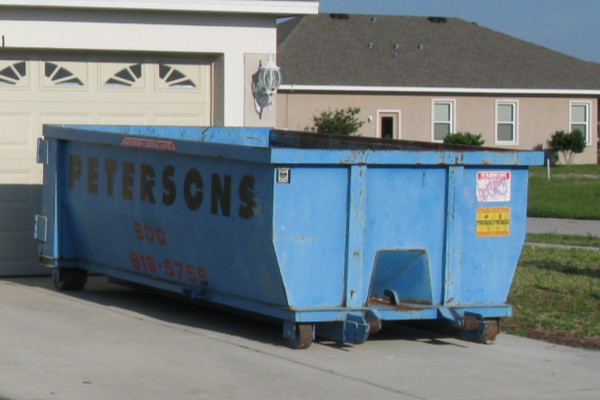 10-yard dumpsters – A 10-yard dumpster measures 12' long x 8' wide x 4' high making them the perfect selection for small remodeling projects or medium sized clean ups.
20-yard dumpsters – A 20-yard dumpster measures 22' long x 8' wide x 4.5' high which makes this size perfect for large home clean-up projects and medium sized renovation projects.
30-yard dumpsters – A 30-yard dumpster measures 22' long x 8' wide x 6' high and is the perfect size for the largest of home clean out projects and larger home remodeling and renovation projects.
Single Flat Pricing – No Rental Fees – No Delivery Fees – Same Day and Emergency Service
What Can't You Put in Roll Off Dumpster Rentals?
Generally speaking, hazardous materials or liquid types of items are not allowed in dumpster rentals.  The following items are prohibited:
Any Asbestos
Appliances
Auto Parts
Automotive Fluids
Batteries
Biomedical Waste
Circuit Boards
Contaminated Soil
Dead Animals
Drums
Fluorescent Bulbs
Food Waste
Garbage
Gas Cans / Tanks
Grease Trap Waste
Hazardous Waste
Industrial Waste
Liquids / Sludge
Mercury Devices
Oil Containers
Paint
PCBS TV Computers
Pesticides
Putrescible Waste
Septic Tank Waste
Stains & Lacquers
Street Sweeps
Televisions
Tires
Waste Oil / Oil Filters
If you have any questions on the type of debris you are disposing of, contact us.  We will help ensure that what you are disposing of is allowed.  If prohibited waste is discovered in the container you will be charged for cleanup and removal for the entire load.
Specializing in Roll Off Dumpster Rentals for Contractors, Homeowners, Business Owners and General Managers in Dade City
Whether you are a homeowner cleaning out your garage, a business owner disposing of trash or a contractor engaged in a building renovation, Peterson's Roll Off Dumpsters makes your project simple and affordable.
Apartments
Contractors
Convention Facilities
Government Facilities
Hotels and Motels
Industrial Properties
Landlords
Medical Facilities
Office Buildings
Restaurants
Retail Establishments
Schools
Storage Faculties
Warehouses
And More
Do you Need a Roll Off Dumpster Rental for a Landscape Project in Dade City?
If you are working on a landscape project, you may be wondering how a roll off dumpster rental can help you. For the typical homeowner, routine yard maintenance can be easily bagged and removed by the local provider. Sometimes a project is more involved, like removing downed trees, stumps, large branches, old firewood or perhaps the remnants of a fence or shed. For larger projects, renting a dumpster is convenient, practical and time saving. The most common yard debris that is disposed of in dumpsters include:
Branches
Debris from Storm Damage
Lumber Remnants
Old Fencing
Old Firewood
Old Mulch
Shrubbery
Stumps
And More
Contact Us for Quick and Reliable Roll Off Dumpster Rentals in Dade City
Licensed and insured, Peterson's Roll Off Dumpsters has been serving Hudson and most of the surrounding towns and communities of Pasco, Hernando, Hillsborough and Pinellas counties. We know what it takes to get the job done right the first time. We deliver clean, quality dumpsters to fill your specific needs. We pride ourselves on our excellent customer service, prompt pickup and delivery and affordable prices. Choose us for your next dumpster rental and keep your project organized and safe with our affordable, dependable dumpsters. Call today or click here to request a quote.

Called for a 30 yard dumpster and from the beginning the services were spot on! Competitive prices, dumpster was delivered same day as requested and Tom was really helpful in providing quick but informative anwsers that assured me good customer service. Driver dropped the box off and was very conscious of my yard and pick up was breeze with no left over debris. Will definitely use in the future.
Reliable Dumpster Service
Same Day Service
In most cases we can provide same day service.  Contact our office for details.
Family Owned & Operated
Three generations strong, we striving to meet your needs with competitive, reliable services.
Emergency Service
Since not all dumpster rental needs are planned, we offer emergency service.
Wide Selection of Sizes
We offer a variety of dumpster sizes to fit your needs. Reserve your dumpster today.
Flat Rates
We offer simple Flat Rate prices.  No need to worry about rental fees, disposal fees & more.
Licensed & Insured
Our business is fully insured and certified, and all our technicians are highly trained.
On Time Delivery & Pick Up
Our courteous drivers provide reliable on time drop off & pick up services
Environmentally Friendly
Our local public dumping facility is safe, clean, and environmentally friendly.
Superior Customer Service
We offer reliable service, and prompt response time.  Request a quote from our waste management company today
Types of Dumpster Rentals We Offer
Peterson's Roll-Off Dumpsters Proudly Services the Following Areas
Pasco County
Airpeka, Bayonet Point, Dade City, Elfers, Holiday, Hudson, Land O Lakes, New Port Richey, Odessa, Port Richey, Saint Leo, San Antonio, Seven Springs, Trinity, Wesley Chapel, Zephyrhills
Pinellas County
Clearwater, Dunedin, Oldsmar, Palm Harbor, Safety Harbor, Tarpon Springs
Hillsborough County
Brandon, Carrollwood, Cheval, Citrus Park, Egypt Lake -Leto, Keystone, Lake Madalene, Lutz, Northdale, Sun City, Tampa, Town n Country, Westchase
Hernando County
Brooksville, Hernando Beach, Ridge Manor, Spring Hill, Timber Pines, Weeki Wachee