Dumpster Rentals for Garage Clean Out
Peterson's Roll-Off Dumpsters is the Partner you Need when it comes to Dumpster Rentals for your Garage Clean Out
Are you're staging your house to place it on the market?  Looking to get organized? Do you want to see what your cars look like parked in your garage?  If so, contact Peterson's Roll Off Dumpsters for garage clean out dumpster rentals.  For whatever reason many of us choose to hold on to broken lawn mowers, power tools that don't work, old bicycles and just about anything that at one time we felt we couldn't live without. Before you know it, your garage is so cluttered the cars end up in the driveway and you're not sure if the family pet is lost somewhere in the abyss that was once your garage. You've reached the point where the best solution is a garage clean out. As daunting as the task may seem, a complete garage clean out can easily be accomplished over a weekend. What it takes is the will to do it, and a roll-off dumpster from Peterson's Roll-Off Dumpsters. Whether you live in Pasco, Hernando, Hillsborough, or Pinellas county, we can quickly deliver a container to you. Family owned and locally operated since 1972, we have helped thousands of clients affordably and efficiently get rid trash, unwanted items, and debris. Call today or click here to request a quote.
Is this your First time Renting a Dumpster?
If this is your first time renting a dumpster, don't worry!  Renting a dumpster from us is easy!  Our goal is to provide our customers with the best customer service in the industry.  When you contact us, our helpful, friendly, and knowledgeable staff will answer all your questions and walk you through the dumpster rental process.  With over 45 years of experience, there isn't a question we cannot answer or a problem we can't solve.  We are committed to providing the best customer service in the industry.  We provide the following:
One Single Flat Rate Pricing – No Rental Fees or Dumping Fees – Includes Disposal Fees – Simple Pricing with No Surprises
No Delivery Fees
Convenient Dumpster Drop Off and Pick Up
Same Day and Emergency Service Available
We Dispose of the Waste – Environmentally Responsible – Environmentally Friendly
Wide Variety of Dumpster Sizes, 10 yard, 20 yard and 30 yards
What's the Best Way to Organize a Complete Garage Clean Out?
It may seem a daunting task as you stare at your over-stuffed garage. Where and how do you being to tackle this project? What we recommend is that you take a moment and develop a plan to attack the problem.
STEP ONE: In all likelihood you probably haven't got a good handle on what's in your garage. That's perfectly normal. Start by determining what you need to keep and what you can live without. For example, decide to only keep lawn equipment or power equipment that works, and you actually use. Anything that's broken goes in to the "It Goes" pile. That can also include the old 8 Track tape player, old video games, DVD players, treadmill, etc.
STEP TWO: Are there items in your garage that you know you'll never use but that still have potential value to others? Some of these items could be sold in a yard sale or sold online. Rather than throwing them away you can make a few bucks. Your old golf clubs or that extension ladder might be a real find to someone else. If you can't sell them, then consider what could be donated to charity, the local YMCA, Toys for Tots, Salvation Army, Red Cross or other organizations that will come pick up items that could help someone else in need. This might be old clothing, sports equipment, or working appliances you've replaced. You'll feel better about donating to help others, and anything that doesn't end up in your dumpster saves you money and leaves room for things that are on your "It Goes" list.
STEP THREE: Now that you've reduced your junk it's time to contact Peterson's Roll-Off Dumpsters and schedule the delivery of your dumpster. Your first consideration should be, what size dumpster do I need? The professionals at Peterson's can help you assess your situation and choose the right size dumpster for your project. Choosing the right size is important so you don't have to have it picked up more than one time. For example, if you have a 2-car garage and you've already eliminated some of the junk a 10 cubic yard dumpster will likely be more than sufficient. Regardless of how much you must dispose of, we can help you select the proper sized dumpster. Separate the "It Goes" items from the "It Stays" items. You'll also want to make sure any items that can't be placed in your dumpster are put aside for proper disposal later.
Items That Can't Be Placed in Garage Clean Out Dumpster Rentals
There are going to be items you don't want to keep but are not allowed in landfills. One of our technicians can give you a complete list, but below is a partial list of many items you'll not be able to place in your dumpster. For more information and frequently asked questions, click here. Depending on the county you live in, there will be a proper procedure for you to dispose of any Household Hazardous Waste (HHW). Often there is no charge for this service, but some hazardous waste items require a small disposal fee.
Pesticides/Herbicides/Hazardous Waste/Industrial Waste/Dead Animals
Motor Oils/Lubricants/Brake Fluid/Antifreeze/Grease Trap Waste
Paint/Paint Remover/Paint Thinner
Household Cleaners/Solvents
Fluorescent Light Bulbs
Batteries of all Types/Auto Parts
Old Medications/Biomedical Waste/Septic Tank Waste/Sludge
Thermostats/Thermometers (contain mercury)
Diesel Fuels/Gasoline/Gas Cans/Drums
Appliances/PCBS/Computers/Televisions
Asbestos
Garbage/Food Waste/Any Putrescible Waste
Tires
Contaminated Soil
What Size Dumpster Should I Rent to Clean Out My Garage?
From duplicate tools and broken ladders to old garden hoses and old patio furniture, it is amazing how much stuff can be accumulated in a garage. When you are ready to purge the junk that has been collected, the easiest and most affordable way to get rid of it is to rent a dumpster. So, what size dumpster should you rent?  That depends on the amount of trash you need removed.  Most homeowners rent either our 10 yard dumpster or 20 yard dumpster.
10 Yard Dumpster
For most 2 car garages, our 10 yard dumpster should work. A 10 yard dumpster can hold 50 to 60 13 gallon trash bags (or the equivalent of 3 pickup truck loads of waste).
20 Yard Dumpster
If your garage is a 3 car garage, you may need to rent our 20 yard dumpster. A 20 yard dumpster can hold up to 120 13 gallon trash bags (or the equivalent of 6 pickup truck loads of waste).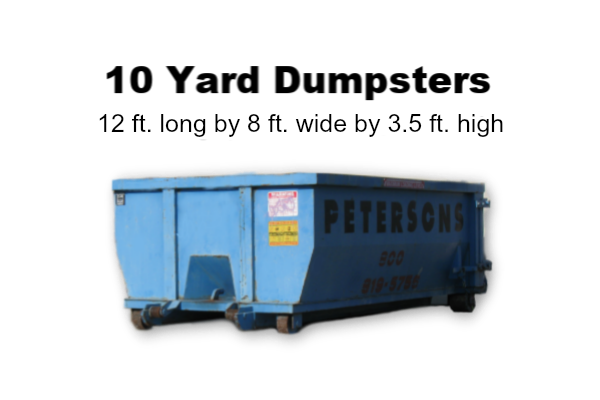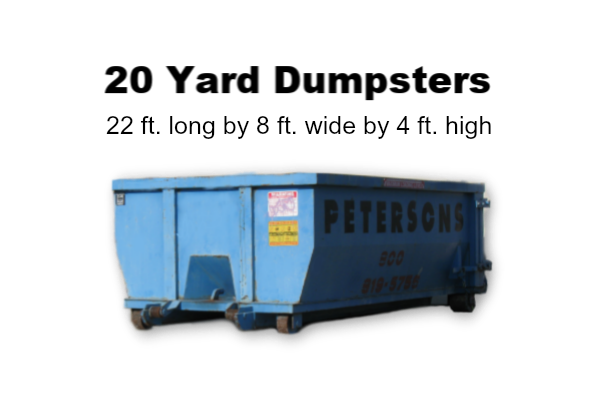 Contact Us for Quick and Reliable Garage Clean Out Dumpster Rentals
Licensed and insured, Peterson's Roll Off Dumpsters has been serving homeowners, contractors, business owners, property manager and more in Tampa Bay and the surrounding areas for over three generations and understands what it takes to get the job done right the first time. We deliver clean, quality dumpsters to fill your specific needs. We pride ourselves on our excellent customer service, prompt pickup and delivery and affordable prices. Call or request a quote today >

What a great experience! Everyone I spoke to was extremely nice, and the customer service was perfect! The delivery and pickup was on time, and I received calls from the driver as promised. The rates are great, and made my project go smoothly. I highly recommend Peterson's!
Reliable Dumpster Service
Same Day Service
In most cases we can provide same day service.  Contact our office for details.
Family Owned & Operated
Three generations strong, we striving to meet your needs with competitive, reliable services.
Emergency Service
Since not all dumpster rental needs are planned, we offer emergency service.
Wide Selection of Sizes
We offer a variety of dumpster sizes to fit your needs. Reserve your dumpster today.
Flat Rates
We offer simple Flat Rate prices.  No need to worry about rental fees, disposal fees & more.
Licensed & Insured
Our business is fully insured and certified, and all our technicians are highly trained.
On Time Delivery & Pick Up
Our courteous drivers provide reliable on time drop off & pick up services
Environmentally Friendly
Our local public dumping facility is safe, clean, and environmentally friendly.
Superior Customer Service
We offer reliable service, and prompt response time.  Request a quote from our waste management company today
Types of Dumpster Rentals We Offer
Peterson's Roll-Off Dumpsters Proudly Services the Following Areas
Pasco County
Airpeka, Bayonet Point, Dade City, Elfers, Holiday, Hudson, Land O Lakes, New Port Richey, Odessa, Port Richey, Saint Leo, San Antonio, Seven Springs, Trinity, Wesley Chapel, Zephyrhills
Pinellas County
Clearwater, Dunedin, Oldsmar, Palm Harbor, Safety Harbor, Tarpon Springs
Hillsborough County
Brandon, Carrollwood, Cheval, Citrus Park, Egypt Lake -Leto, Keystone, Lake Madalene, Lutz, Northdale, Sun City, Tampa, Town n Country, Westchase
Hernando County
Brooksville, Hernando Beach, Ridge Manor, Spring Hill, Timber Pines, Weeki Wachee