Landscape & Yard Waste Dumpster Rentals
Dumpster Rentals are a Great Way to Clear Out Yard Waste Easily
Whether you are planning a new landscaping project or cutting down an entire tree, yard waste can quickly accumulate.  Not to mention, having too much yard waste may not be approved for curb pickup.  With a landscape and yard waste dumpster rental you can easily dispose of the waste and keep your property clean.  At Peterson's Roll Off Dumpsters, we provide yard waste dumpster rentals in a variety of sizes to accommodate projects large and small. Our goal is to make your experience as simple as possible.  Call today or click here to request a quote.
We Make Renting a Dumpster Easy!
Renting a dumpster from us is easy! First, when you contact us, our helpful, friendly, and knowledgeable staff will answer all your questions and walk you through the dumpster rental process. Second, our low, flat rates makes yard cleanups affordable on any budget. Third, we will schedule a convenient delivery and pick up time. With one call you can find the right size dumpster for all you landscape and yard waste.
Dumpster Sizes We Offer
The dumpster you need to rent will be dependent on the size of your project. That being said, we have three dumpster sizes, which will suit most needs as follows:
10 Yard Dumpster
A 10 yard dumpster measures 12' long x 8' wide x 3.5' high and can hold the equivalent of 50 or 60 garbage bags. Our 10 yard dumpsters would be ideal for smaller projects such as dirt removal, regular yard maintenance, and small landscape jobs.
20 Yard Dumpster
Our 20 yard dumpster measures 22' long x 8' wide x 4' high and can hold the equivalent of 120 13 gallon trash bags. Therefore, 20 yard dumpsters are often used for tree removal, larger landscape projects, and cleaning large properties.
30 Yard Dumpster
The 30 yard dumpster measures 22' long x 8' wide x 6' high and can hold the equivalent of 180 13 gallon trash bags. This size dumpster is ideal for large jobs that produce a lot of waste such as complete landscape redesign, sod removal, and storm debris clean-up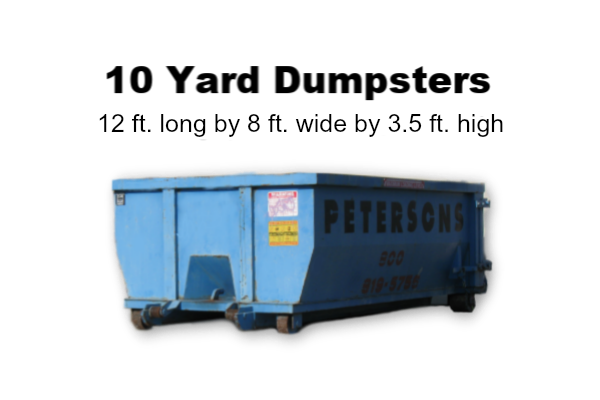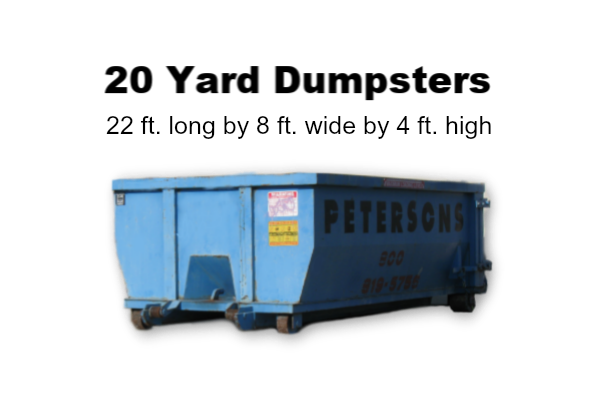 Types of Yard Waste
Yard waste includes anything from lawn trimmings, leaves and clippings to chopped down trees and bush or shrubbery removal.  While some of this debris can be bagged and removed by your local garbage provider, projects with larger amounts of yard waste can find that a dumpster rental is more convenient and sensible. Aside from grass clippings and leaves, below is a list of yard debris suitable for dumpster rentals:
Large Branches – The advantage of a roll off dumpster is that these large branches won't require them to be cut into small sections.
Stumps – This isn't something your local garbage provider will pick up.
Lumber Remnants – If you've finally demolished your rotting fence or shed, a roll off dumpster offers the best solution to get rid of this debris in one stroke.
Old Firewood – Not only are old piles of rotting wood unsightly, but they are also a perfect nesting area for snakes, rodents, and spiders. Unless you live in the country, burning this waste isn't going to be an option. Therefore, a roll off dumpster is the perfect solution.
Shrubbery – If you're removing lots of plants and shrubs to make room for your new landscaping, a dumpster is an ideal way to dispose of them.
Old Mulch – When doing a complete yard makeover, you may want to dispose of the old mulch that remains in your beds.

Called for a 30 yard dumpster and from the beginning the services were spot on! Competitive prices, dumpster was delivered same day as requested and Tom was really helpful in providing quick but informative anwsers that assured me good customer service. Driver dropped the box off and was very conscious of my yard and pick up was breeze with no left over debris. Will definitely use in the future.
Read More 5 Star Reviews >
Our Landscape and Yard Waste Dumpster Rentals Will Make Your Project Easier
Single Flat Pricing – No Rental Fees – No Delivery Fees – Same Day and Emergency Service
Licensed and insured, Peterson's Roll Off Dumpsters has been serving Tampa Bay and the surrounding areas since 1972. With outstanding customer service and the best prices in the area, we have become one of the local home dumpster rentals leaders . You can count on us to deliver clean, quality dumpsters to fill your specific needs.  Call today or click here to request a quote.
Reliable Dumpster Service
Same Day Service
In most cases we can provide same day service.  Contact our office for details.
Family Owned & Operated
Three generations strong, we striving to meet your needs with competitive, reliable services.
Emergency Service
Since not all dumpster rental needs are planned, we offer emergency service.
Wide Selection of Sizes
We offer a variety of dumpster sizes to fit your needs. Reserve your dumpster today.
Flat Rates
We offer simple Flat Rate prices.  No need to worry about rental fees, disposal fees & more.
Licensed & Insured
Our business is fully insured and certified, and all our technicians are highly trained.
On Time Delivery & Pick Up
Our courteous drivers provide reliable on time drop off & pick up services
Environmentally Friendly
Our local public dumping facility is safe, clean, and environmentally friendly.
Superior Customer Service
We offer reliable service, and prompt response time.  Request a quote from our waste management company today
Types of Dumpster Rentals We Offer
Peterson's Roll-Off Dumpsters Proudly Services the Following Areas
Pasco County
Airpeka, Bayonet Point, Dade City, Elfers, Holiday, Hudson, Land O Lakes, New Port Richey, Odessa, Port Richey, Saint Leo, San Antonio, Seven Springs, Trinity, Wesley Chapel, Zephyrhills
Pinellas County
Clearwater, Dunedin, Oldsmar, Palm Harbor, Safety Harbor, Tarpon Springs
Hillsborough County
Brandon, Carrollwood, Cheval, Citrus Park, Egypt Lake -Leto, Keystone, Lake Magdalene, Lutz, Northdale, Sun City, Tampa, Town n Country, Westchase
Hernando County
Brooksville, Hernando Beach, Ridge Manor, Spring Hill, Timber Pines, Weeki Wachee