Dumpster Rentals for Waste Removal
Are you Looking for an Affordable Way to Remove Waste?
If you're tired of looking at the piles of junk building up in your yard, then dumpster rentals for waste removal is what you need.  Peterson's Roll Off Dumpsters understands that sometimes things just pile up which is why, for three generations, our family has provided exceptional value and service to homeowners, business owners, contractors, property managers and more.  Whether you are Pasco, Hernando, Hillsborough, or Pinellas county, we can quickly deliver a waste removal dumpster rental to you.  Easy and affordable, we deliver the right size dumpster, and schedule service to match your output, picking up the dumpster when your project is completed. Call today or click here to request a quote.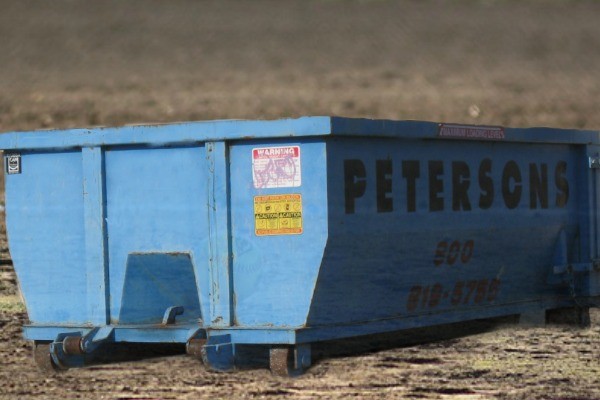 Waste Removal Dumpster Rentals are a Simple Solution
If you answer yes to any of the following questions, renting a dumpster for waste removal is a simple solution that is just a phone call away. Peterson's Roll-Off Dumpsters can deliver the right size dumpster to your home or business to allow you to rid yourself of whatever waste is standing between you and an uncluttered environment, and it can all be gone in one trip!
Are you tired of wasting your free time making trip after trip to the county land fill only to find you've only put a dent in your seemingly endless supply of junk?
Is your local trash provider refusing to haul away certain types of trash making the front of your home look like a dump?
Even if your trash provider will haul away your waste, will it stay piled up in your yard for weeks or longer because they'll only take small amounts at a time?
Are you planning to do a spring clean out, landscape work or remodeling or construction projects to your home or business?
Not All Waste Removal Dumpster Rentals Companies are Created Equally
Peterson's Roll-Off Dumpsters makes your dumpster project simple and affordable by offering these advantages:
Single Flat Rate Pricing – No Rental Fees – Includes Disposal Fees – Simple Pricing with No Surprises
No Delivery Fees
Convenient Dumpster Drop Off and Pick Up
Same Day and Emergency Service Available
We Dispose of the Waste – Environmentally Responsible & Friendly
Wide Variety of Dumpster Sizes, 10 yard, 20 yard and 30 yard – "click here to learn more"
What are the Advantages of Having Your Own Dumpster Rental for Waste Removal?
Regardless of what kind of waste you're looking to get rid of, having a dumpster on your property will make the task easier. Whether it's an overstuffed garage, a remodeling project, a move, yard waste, or spring cleaning, the waste didn't just suddenly appear. By having a dumpster on your property, you can fill it at your own speed.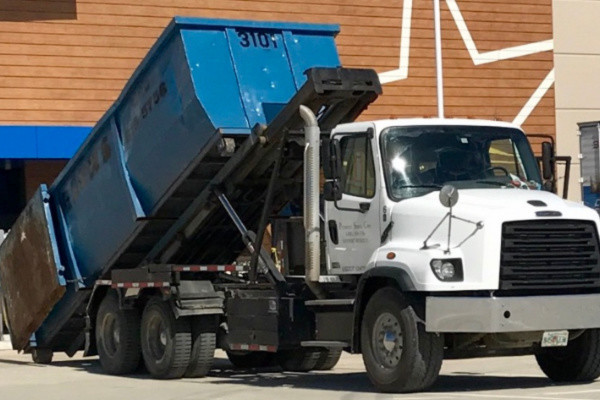 This allows you the time to dispose of waste for your remodeling project as the tear down progresses. You won't have piles of old cabinetry, tile, drywall, etc. piled up in your yard or driveway.
If you're preparing for your move, you can determine what you want to keep and pack and dispose of the rest. What you save in weight reduction for your move will likely cover the cost of your dumpster rental and make unpacking much easier.
When your dumpster is to be used for yard waste, a deck or fence demolition, or a partial roof tear off, the job will proceed much more smoothly when the waste is contained as your job proceeds from start to finish.
Garage Clean Outs or Spring-Cleaning projects can be done much more efficiently and at your own pace. You'll be much happier with the outcome and when that junk is gone, it's gone for good!
What Can and Can't Be Thrown in Waste Removal Dumpster Rentals?
Household junk and debris from landscaping, home improvement and construction projects are typically permitted   This includes carpeting, flooring, shingles, drywall, tree branches, lawn debris, clothing, toys, tables, chairs, couches, asphalt, storm debris and more.  Generally, any hazardous material, such as batteries, oil containers, paint and auto parts are not allowed to be disposed of in a dumpster.  For a complete list of items that are not allowed in a dumpster rental click here >
Contact Us for Affordable and Reliable Waste Removal Dumpster Rentals
Licensed and insured, Peterson's Roll Off Dumpsters has been serving Tampa Bay and the surrounding areas for over three generations and understands what it takes to get the job done right the first time. We deliver clean, quality dumpsters to fill your specific needs. We pride ourselves on our excellent customer service, prompt pickup and delivery and affordable prices. Choose us for your next dumpster rental and keep your project organized and safe with our affordable, dependable dumpsters. Call today or click here to request a quote.
Specializing in Waste Removal Dumpster Rentals for
Contractors, Homeowners, Business Owners, Property Managers and General Managers

What a great experience! Everyone I spoke to was extremely nice, and the customer service was perfect! The delivery and pickup was on time, and I received calls from the driver as promised. The rates are great, and made my project go smoothly. I highly recommend Peterson's!
Reliable Dumpster Service
Same Day Service
In most cases we can provide same day service.  Contact our office for details.
Family Owned & Operated
Three generations strong, we striving to meet your needs with competitive, reliable services.
Emergency Service
Since not all dumpster rental needs are planned, we offer emergency service.
Wide Selection of Sizes
We offer a variety of dumpster sizes to fit your needs. Reserve your dumpster today.
Flat Rates
We offer simple Flat Rate prices.  No need to worry about rental fees, disposal fees & more.
Licensed & Insured
Our business is fully insured and certified, and all our technicians are highly trained.
On Time Delivery & Pick Up
Our courteous drivers provide reliable on time drop off & pick up services
Environmentally Friendly
Our local public dumping facility is safe, clean, and environmentally friendly.
Superior Customer Service
We offer reliable service, and prompt response time.  Request a quote from our waste management company today
Types of Dumpster Rentals We Offer
Peterson's Roll-Off Dumpsters Proudly Services the Following Areas
Pasco County
Airpeka, Bayonet Point, Dade City, Elfers, Holiday, Hudson, Land O Lakes, New Port Richey, Odessa, Port Richey, Saint Leo, San Antonio, Seven Springs, Trinity, Wesley Chapel, Zephyrhills
Pinellas County
Clearwater, Dunedin, Oldsmar, Palm Harbor, Safety Harbor, Tarpon Springs
Hillsborough County
Brandon, Carrollwood, Cheval, Citrus Park, Egypt Lake -Leto, Keystone, Lake Madalene, Lutz, Northdale, Sun City, Tampa, Town n Country, Westchase
Hernando County
Brooksville, Hernando Beach, Ridge Manor, Spring Hill, Timber Pines, Weeki Wachee