Keep your Project Running Smoothly with a Dumpster Rental
Do you have a project that is going to produce a lot of debris? If so, dumpster rentals are the perfect way to easily get rid of unwanted items and trash. Not only will it make your project easier, but you can also throw just about anything into one of our dumpster rentals. Regardless of your project, you won't be disappointed. In fact, thousands of homeowners, contractors, managers, and business owners have rented dumpsters from us. We can handle debris and clutter from a variety of jobs, including home or office cleanups, new construction, demolition, disaster cleanup, landscaping, and more. So, when you need a dumpster, give us a call. We have been serving the Tampa Bay area with dumpster rentals since 1972.
How Much does it Cost to Rent a Dumpster?
We offer a variety of dumpster sizes to handle the needs of the largest construction project to the smallest garage clean up. Overall, the cost of renting a dumpster will be dependent on the dumpster size you need, and the length of time that you need it. Our dumpster rental fees are straightforward, unlike other companies that charge for the type of debris you are disposing of and the weight of the debris. We charge a simple flat rate. You will not be charged for delivery, pick up, debris type, or a disposal fee. Call today or click here to request a quote.
Providing Dumpster Rentals in the Tampa Bay Area Since 1972
Established in 1972, we have worked with thousands of customers. Throughout the years, we have become the preferred dumpster rental company specializing in:

Moving
Anytime you're moving it's a good time to rid yourself of all the junk you've collected in your home. Not only will this save you money, but it will also make getting organized in your new surroundings that much easier.

Because we live in Florida, "spring cleaning" doesn't have to always take place in the spring! When you decide your cars belong in the garage and the "junk" preventing that must go, call Peterson's Roll-Off Dumpsters. We'll help you select the right dumpster for your project and make spring cleaning a breeze!

Whether you are cleaning up your yard, or redoing your landscaping, you will likely produce a lot of waste. Undoubtedly, disposing of large amounts of debris can be challenging. You may have too much yard waste for curb pickup. If that is the case, yard waste dumpster rentals will be perfect for you.
Having a home remodeling dumpster rental on your property will make your project easier. Because the dumpster can be placed on your driveway near your home you will have easy access, short walking distance and a centralized location for disposal. In addition, they can hold just about any type of remodeling debris, including drywall, cabinets, carpet, tile, fixtures, and more.
Estate Cleanouts
Estate clean outs can be overwhelming and sensitive work. Although this is a challenging task, it is often a priority after a loved one passing. Dumpsters can make this difficult task easier by providing one place to dispose of items.
Cleaning out an over-stuffed garage may seem like a daunting task. However, with a plan and a dumpster, you will be well on your way to a clean garage.
We hope you never experience a fire, flood, hurricane, or tornado and incur damage. However, following a disaster you may be faced with removing trees, damaged carpeting, cabinetry, glass, shingles, and more. Because our dumpsters hold just about anything from your yard or house, they are perfect for cleaning up after a disaster.

Dumpsters for Heavy Items
Do you need a dumpster for concrete? Brick? Whether you need a dumpster for concrete, brick, asphalt, or any other heavy material, we can help. Not only are our dumpsters for heavy items affordable, but they will also make your project easier.
What Can Be Thrown Into Dumpster Rentals?
From yard waste to household junk, our dumpster rentals hold just about anything, including:
Household Waste
Furniture
Fixtures
Boxes
Rugs
Household Junk
Tools
Curtains & Window Coverings
Closet Items & Nick Knacks
And More
Remodeling Debris
Glass
Cabinetry
Drywall
Countertops
Flooring
Roofing Materials
Nails
Flashing & Trim
And More
Yard Waste Debris
Dirt
Branches
Lumber Remnants
Shrubbery
Old Mulch
Debris from Storm Damage
Old Fencing
Stumps
And More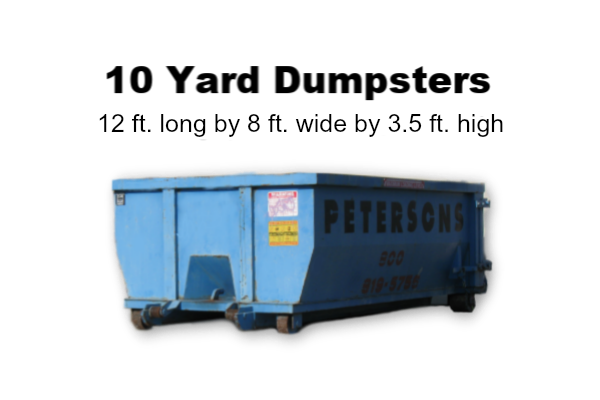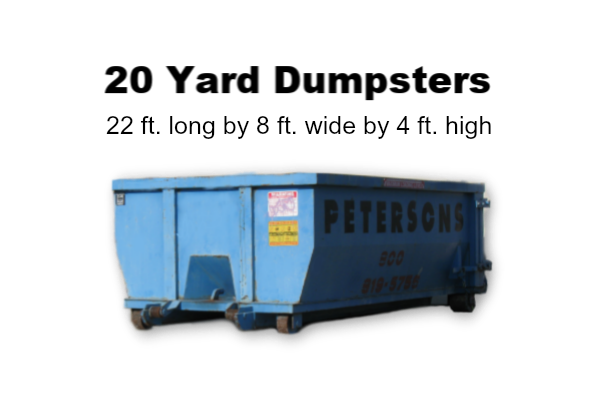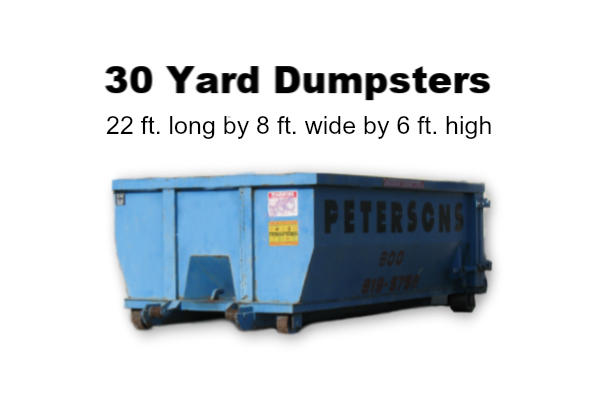 What a great experience! Everyone I spoke to was extremely nice, and the customer service was perfect! The delivery and pickup was on time, and I received calls from the driver as promised. The rates are great, and made my project go smoothly. I highly recommend Peterson's!
Quick and Reliable Dumpster Rentals
Licensed and insured, Peterson's Roll Off Dumpsters has been serving Pasco, Pinellas, Hillsborough, and Hernando Counties for over four decades. As a result, we understand what it takes to get the job done right the first time. With our outstanding service and the best prices in the area, we are the go to dumpster rental company for homeowners, businesses, contractors, and more. Overall, you can count on us to deliver clean, quality dumpsters to fill your specific needs. If you are looking to keep your project on track, organized, and safe. Call today or click here to request a quote.
Reliable Dumpster Service
Same Day Service
In most cases we can provide same day service.  Contact our office for details.
Family Owned & Operated
Three generations strong, we striving to meet your needs with competitive, reliable services.
Emergency Service
Since not all dumpster rental needs are planned, we offer emergency service.
Wide Selection of Sizes
We offer a variety of dumpster sizes to fit your needs. Reserve your dumpster today.
Flat Rates
We offer simple Flat Rate prices.  No need to worry about rental fees, disposal fees & more.
Licensed & Insured
Our business is fully insured and certified, and all our technicians are highly trained.
On Time Delivery & Pick Up
Our courteous drivers provide reliable on time drop off & pick up services
Environmentally Friendly
Our local public dumping facility is safe, clean, and environmentally friendly.
Superior Customer Service
We offer reliable service, and prompt response time.  Request a quote from our waste management company today
Types of Dumpster Rentals We Offer
Peterson's Roll-Off Dumpsters Proudly Services the Following Areas
Pasco County
Airpeka, Bayonet Point, Dade City, Elfers, Holiday, Hudson, Land O Lakes, New Port Richey, Odessa, Port Richey, Saint Leo, San Antonio, Seven Springs, Trinity, Wesley Chapel, Zephyrhills
Hillsborough County
Brandon, Carrollwood, Cheval, Citrus Park, Egypt Lake -Leto, Keystone, Lake Magdalene, Lutz, Northdale, Sun City, Tampa, Town n Country, Westchase